TEN STEPS TO A MORE CONFIDENT YOU
1. LOOK GOOD, FEEL GREAT
If you look good you feel good and appear more confident. As a result, people will respond positively to you, which will make you feel even better about yourself. Your extra confidence will invite ever more positive feedback from those around you, and boost your self-esteem even more… Need we go on? This is a no-fail situation. It is not vain or selfish to make 'looking good' a priority.







2. ACCEPT YOUR SHAPE
You can improve your looks (and confidence) overnight – if you accept what you are, and make the most of it. Give up any attempt to change your basic shape with excessive diet and exercise. Diet and exercise help modify problem areas (a flabby tummy, untoned thighs) and are important for good health. But it's your bone structure which determines the shape of your waist, hips, bottom, legs and the shape of your face. Start dressing to suit your natural shape.
3. KEEP FOLLOWING FASHION
Stop thinking you are too old for fashion - this dangerous tendency surfaces anywhere from the 40's onwards. In fact, as you age it's essential you reassess your style – your shape, hair and skin colour all slightly change (after pregnancy, after the menopause), and you need to adapt your hairstyle, make-up and clothes to suit. Fashionable accessories are the easiest way to follow trends as you get older and become essential elements of your wardrobe.

4. ACCENTUATE YOUR ASSETS
Stop buying clothes that aim to disguise your bad points, but actually draw attention to them (sad, but true). A patterned jumper does not disguise a big bust, it shouts about it. Plain clothes with great accessories work better. A short top worn loose over trousers does not hide the big hips – it draws a very neat line around them (and can completely cover up a trim waist above). If you have a waist, tuck the shirt in and wear plain skirts or trousers and a belt. A high neck does not cover up a short neck or double chin, it just emphasises it. A lower neckline will give the illusion of a longer, slimmer neck.
5. DEVELOP PERSONAL STYLE
" Teenagers, women and men in their 20's, wear whatever 'look' that's in, and can probably get away with it". "But women in their 30's and beyond should develop their own personal style". Great style icons of the past – Audrey Hepburn, Jackie Onassis, Marilyn Monroe – worked out what worked best for their bone structure and stature. Today's women can do exactly the same as the great thing about fashion now is it's more flexible and allows for a great deal of choice. There isn't just 'one look' that everyone has to buy into. You can wear short or long skirts, narrow or wide leg trousers, high or low neck tops. Once you've discovered the 'look' that suits you, you can buy it from this season's ranges, in this years colours. (See later whether you are Straight, Tapered or Curved.)
6. SORT OUT YOUR WARDROBE
Put to one side anything you haven't worn for at least a couple of years, and concentrate on the items you like wearing, that make you feel good and usually invite compliments. They're probably the right shape. Separate your garments – skirts, shirts, trousers, T-shirts and jackets should be hung in five separate sections "We all make the mistake of teaming the same blouse with suits, and the same T-shirts with jeans etc – thinking we can't mix and match them up". Now take the things you love to wear and start experimenting. Try the jeans with a white blouse and blazer rather than a baggy sweatshirt. Team the black suit you adore but only ever wear with the silk blouse with a white T-shirt and black loafers. When you do buy new clothes spend more on less – invest in a few good quality items you'll want to wear to death and dress up or down with accessories and cheaper 'must-have' garments of the season.

7. ASSESS YOUR HAIRSTYLE
Study your face shape and features and see if they are softer or more angular. You don't want to disguise your face type with your hair (soft, round features with a short, cropped look; or an angular, long face with soft style, worn over the face), you want to complement it. For example an angular face needs a sharp, slick style – a blunt edge at the bottom of a bob, angles in front of the ears, hair brushed back off the face or worn up. Soft faces need curl, volume, flicks and wisps.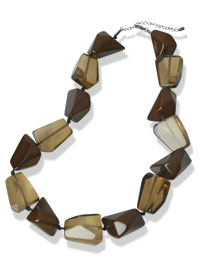 8. APPLY THE SAME
RULES TO JEWELLERY
AND GLASSES
Angular faces (e.g. strong jaw, nose, cheekbones) should choose jewellery, particularly earrings and necklaces, made up of straight lines – squares, diamonds, stick drops; while a soft face (curved jaw, button nose, rounded cheeks) is complemented with soft lines (hoops, circles or pear-drops). When you are next choosing glasses, bear the same guidelines in mind: angular faces look more stylish and confident in rectangles, squares or catseyes; while softer faces suit ovals, curved or aviator styles.
9. RE-VAMP YOUR MAKE-UP
Go to a make-up counter or colour/style consultant and ask for a make-up lesson, with this season's colours. Consultants will talk through the best way to enhance your skin tone, hair and eye colour and draw attention to your best features.
10. DISCOVER YOUR LOOK
• ARE YOU 'STRAIGHT UP AND DOWN'
i.e. straight ribcage, little or nor waistline, straight hips and thighs.
Whether you are slim or fuller figured, go for straight, figure-skimming lines with little or no waist emphasis.

• ARE YOU 'ALL IN AND OUT' – THE 'CURVED' LOOK
i.e. slanted ribcage, high bust, obvious waist, lower and rounded hips. Avoid straight clothing (except when worn open e.g. a straight jacket), and go for fitted styles, eye-catching belts, fuller skirts and tucked-in tops.

• ARE YOU 'SOMEWHERE IN BETWEEN THE ABOVE'
i.e. tapered with a short ribcage, low bust, high hips and a slightly visible waistline. You are curved, but because of a short ribcage or low bust, too much waist emphasis can make the body look bunched-up in the middle. Go for semi-fitted styles, low belts, bottoms with thin or no waistlines and fit 'n' flare styles.