Månedens modetips - den perfekte feriegarderobe.

Når du pakker din sommerferiekuffert, så start med at samle alt det tøj, sko og tilbehør som du tror, du vil få brug for - læg så halvdelen af det væk igen! I disse dage, hvor der er kommet nye vægtbegrænsninger hos mange flyselskaber, må du tænke ekstra grundigt over, hvad du pakker i kufferten.

Vælg tøj fra den samme 'farve-familie' - f.eks. sort, hvid og rød, eller brun - creme og koral. Disse farver er lette at mikse og matche til et væld af forskellige sæt. Husk også, at det er bedre at have flere toppe end underdele. Tag også et par kjoler med, som kan bruges om dagen og pyntes op med smykker og tilbehør til aftenbrug.

Travel in comfort
It's never wise to travel in tight outfits, high heels or fabrics which crease very easily. A relaxed trouser suit in a linen/poly blend with a t-shirt and flat loafers is ideal. Remember, if you are travelling by air, that it takes so much longer to get through the security checks today, so an outfit in which you can run quite quickly (as they close the departure gates) is essential!

Rule of three
As well as bearing in mind complementary colours and travel-friendly fabrics (cool-knits, stretch-jersey, linen/cotton-blends), also consider how you will wear your chosen pieces. Will each garment go with three other pieces? Can each garment be worn three different ways? Can most items be layered with others to suit three different temperatures – morning, afternoon and evening?

12 easy pieces to mix and match

1-2: Neutral Trouser Suit
There are lots of white ones around at the moment – great for sunny weather but not slimming and not too practical! Safari-style suits in beige/cream/brown are best – look for linen/polyester blends which don't crease.

3: Shorts
Choose a colour which will match/blend with your jacket. Knee-length, tailored styles are best as these can also be dressed-up/worn with heels for evenings.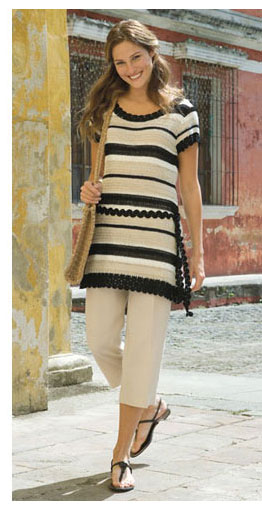 4: Loose Sweater
A cotton or cotton/silk knit with short 3⁄4 sleeves in a loose shape is invaluable. Wear it as an alternative to your jacket for a casual look. Dress it up with wooden beads, bangles, scarves etc.
5: Waistcoat
These are very fashionable at the moment and single-breasted styles suit all bodyshapes. Can be worn alone to show off your tan (fake or otherwise!) or over T-shirt/ blouse. Also looks great worn open over a floral dress.
6: Sheer Shirt
Great as a beach cover-up. Choose a style with side-slits for easy movement. Slim figures can knot it at the front and wear with trousers/shorts. Fuller Figures can leave open as a lightweight jacket over other garments or fasten it and wear a waistcoat on top with trousers/shorts/3⁄4 pants.
7: Wide-Leg Pants
You will find lots of these around this season – either tailored or relaxed to suit different tastes/bodyshapes. Drawstring waists are popular but only have 'on-show' if you are quite slim; fuller figures best to wear a loose top over the waistline. Wear with flat or wedge heel – stilettos best with narrow pants.
8: Cropped/3⁄4 pants
An alternative look to the wider pants is the cropped/3⁄4 or Capri pants which give a sportier look and can be worn with flats, heels or even trainers. If you have chunky knees/calves, you may want to take a couple of pairs of these instead of a pair of shorts.
9: Pretty T-Shirt
T-shirts have had a makeover this season with pretty, puff sleeves (great to balance hips) and low, button-front necklines. Much more flattering than the traditional round-neck styles.
10: A-Line Top
A patterned top (flowers, graphics, spots etc) which falls from a seam under the bustline is great for all bodyshapes. Wear over trousers, shorts, cropped pants for lots of different looks.
11: Slip Dress
A strappy, patterned dress with a straight, shift-shape makes a great sundress or layer it over a T-shirt for a casual look. A short style can double as a tunic over straight pants/jeans.
12: Button-Front Dress
A button-front dress with short sleeves is very versatile. Wear it buttoned (and belted if you have a slim waist) for a smart look. Or leave it open as a lightweight coat/jacket over shorts/cropped pants or even swimwear.
Essential Accessories
Load up with accessories to change your look from day to day and from casual to glam. Scarves, belts, and jewellery take up little space, weigh very little but contribute a lot to your holiday style – cheap and cheerful is best for summer hols, and it's also wiser to leave your valuable jewellery safely at home. Don't forget hats too – pack a straw hat at the bottom of your case (pad the crown with undies) or take a Panama which rolls neatly into a tube for travelling. Limit bags to your Rule of Three: a large tote for travelling; a medium shoulder bag for daytimes and a clutch for evenings.
Footnote
Do not overload on shoes: footwear is heavy, space-consuming and most of it never gets worn! We're back to the Holy Trinity again: flat loafers/trainers for travelling/walking; a moderate heel/wedge for daytime and a glam, high-heel sandal for evening.
Happy hols!